Miso
Soybeans Miso
( Naturally brewed, Additive-free )

The main ingredients are only soybeans and salt, both of which are made in Japan. This soybean miso is made with carefully selected soybeans which are thoroughly matured in the traditional wooden barrels for about 2 years. It features bean miso's deep and rich taste.

Volume × quantity per case

750g×6

Shelf life

6 month from production date

Package size(L×W×H)

270mm×390mm×110mm

Storage condition

Room temparature

JAN code

4962145020397

OWARI AKA-DASHI Miso

This soybean paste is carefully fermented from carefully selected soybeans and carefully aged. By making rice miso blend by making the soup stock work, the bitterness and bitterness peculiar to red miso have been suppressed.

Volume × quantity per case

1kg×10

Shelf life

9 month from production date

Package size(L×W×H)

235mm×370mm×150mm

Storage condition

Room temparature

JAN code

-

Mixed Miso

This miso is a perfect mix of rice miso and bean miso. It is a mixed miso in which the mellow sweetness of rice miso and the deep richness of bean miso are utilized.

Volume × quantity per case

1kg×10

Shelf life

6 month from production date

Package size(L×W×H)

230mm×270mm×200mm

Storage condition

Room temparature

JAN code

4962145020397
Soy Sauce
OWARI Soy Sauce

OWARI soy sauce is a rich soy sauce with a very strong "umami". You can enjoy the taste of the restaurant at home if you use this flavorful OWARI soy sauce for sashimi and salad.

Volume × quantity per case

1L×6

Shelf life

24 month from production date

Package size(L×W×H)

195mm×290mm×300mm

Storage condition

Room temparature

JAN code

4962145008159

HON-TAMARI Soy Sauce

"Tamari" soy sauce is a special product of Aichi prefecture, and by using soybean as the main ingredient, the scent, color and taste are rich and individual. It contains 1.5 times more umami ingredients than regular koikuchi soy sauce, and is also perfect for producing "terri" with more polysaccharides.

Volume × quantity per case

1L×6

Shelf life

24 month from production date

Package size(L×W×H)

195mm×290mm×300mm

Storage condition

Room temparature

JAN code

4962145008050

NAMA-Soy Sauce

Unlike normal soy sauce, it is not heat-treated, and it is a freshly squeezed "raw soy sauce". It has a light taste that matches the taste of the present, and features "bright colors" and "smooth umami". By adopting a double-structured "sealed bottle" that keeps soy sauce freshness, it prevents taste from deteriorating and can be used deliciously until finished.

Volume × quantity per case

200ml×18

Shelf life

12 month from production date

Package size(L×W×H)

200mm×380mm×160mm

Storage condition

Room temparature

JAN code

4962145011005
Processed goods
MISOSCO

A new type of seasoning made by blending fermented soybean miso and habanero pepper. Rich flavor of soybean miso and hot and spicy flavor of habanero pepper create a new, piquant sensation. Tasty hot seasoning for various dishes, including Japanese, Western and Chinese.

Volume × quantity per case

80g×18

Shelf life

12 month from production date

Package size(L×W×H)

145mm×280mm×140mm

Storage condition

Room temparature

JAN code

4962145010961

YUZU PONZU

This is ponzu vinegar with the delicious taste of bonito and kelp dashi. A mellow dashi ponzu vinegar that uses yuzu fruit juice from Tokushima prefecture, which has a rich fragrance without using any chemical seasoning.

Volume × quantity per case

300ml×12

Shelf life

12 month from production date

Package size(L×W×H)

210mm×280mm×230mm

Storage condition

Room temparature

JAN code

4962145020380

MISO-KATSU Sauce

Sauce for Miso-katsu(deep-fried pork cutlet served with miso-based sweet sauce). Sugar, sesame seeds and other ingredients are added to our specialty Shippo Akadashi Miso. Sweet and mild flavor. For oden(Japanese-style hotpot with Various ingredients boiled in clear soup), tofu, grilled eggplant or fried vegetables. Easy-to-use tube-shaped container.

Volume × quantity per case

300ml×12

Shelf life

12 month from production date

Package size(L×W×H)

230mm×270mm×210mm

Storage condition

Room temparature

JAN code

4962145010596
Professional-use
Sweet Miso Sauce

Sauce for Miso-katsu(deep-fried pork cutlet served with miso-based sweet sauce). Sugar, sesame seeds and other ingredients are added to our specialty Shippo Akadashi Miso. Sweet and mild flavor. For oden(Japanese-style hotpot with Various ingredients boiled in clear soup), tofu, grilled eggplant or fried vegetables. Easy-to-use tube-shaped container.

Volume × quantity per case

500g×16

Shelf life

12 month from production date

Package size(L×W×H)

145mm×280mm×140mm

Storage condition

Room temparature

DONNBURI Sauce

Based on Koikuchi soy sauce, bonito, mackerel, and other soup stock are blended in a well-balanced manner to create a rich and sweet taste. You can easily use it for tempura bowl, katsudon, parent and child bowl, etc. It can be widely used for sukiyaki, meat and potatoes, stewed foods, and kinpira.

Volume × quantity per case

1.8L×6

Shelf life

12 month from production date

Package size(L×W×H)

230mm×330mm×330mm

Storage condition

Room temparature

TERIYAKI Sauce

A teriyaki sauce that makes full use of the richness and flavor of "Tamari soy sauce" brewed in-house. It can be used not only for grilled fish and boiled fish, but also as a sauce for teriyaki chicken and broiled eel.

Volume × quantity per case

1.8L×6

Shelf life

12 month from production date

Package size(L×W×H)

230mm×330mm×330mm

Storage condition

Room temparature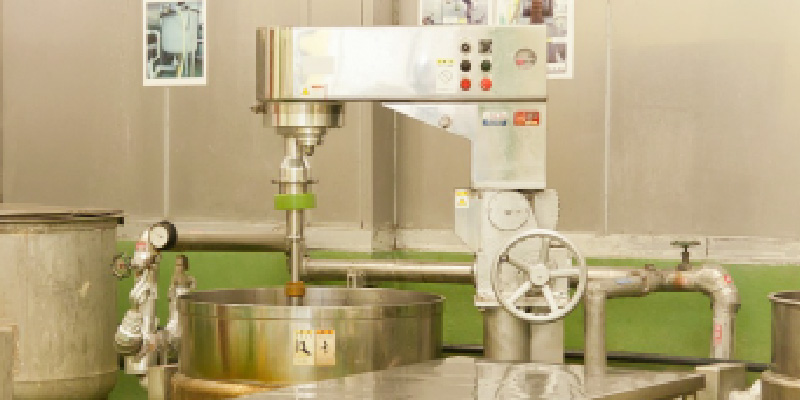 We have more than 100 other recipes.
We can make your own sauce you want.
The form of containers etc. can be flexibly adapted to your wishes.
We are also good at manufacturing small lots.
If there is anything we can help you with, please do not hesitate to contact us.